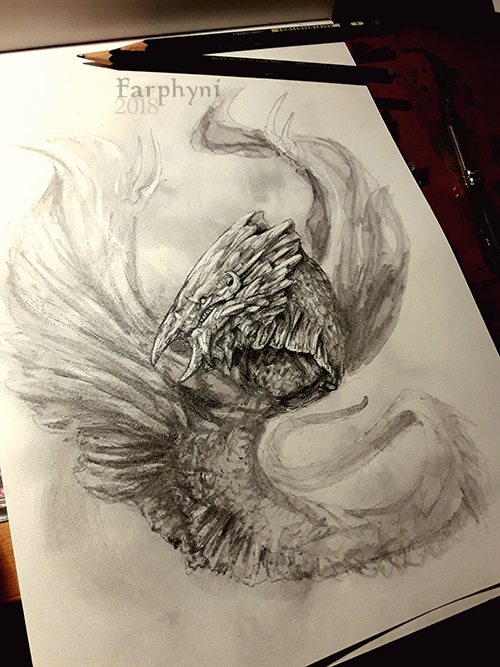 (quick A4 pencil and graphite sketch)
When we can't have what we long for, then – sometimes – we have to believe.
Concept art for a species belonging to my headworlds and stories.
This creature is a Terrorwing. Even though it is wondered how those mutated monsters are able to fly with their abnormal wings and why they're able to summon storms, it is said, that the Terrorwings' actual power is the unlimited dominion over the(ir) belief. As long as they believe that they can fly and summon storms they're also able to do those mentioned things. And that's where the other species of the planet tremble in fear … because if the Terrorwings one day decide to take over the world and rule over the other species … they'll be able to do so.
Terrorwings are an old race of mutated birds who are as large as an adult horse and eat mostly meat. As already mentioned, they're able to summon storms with a screech.
They love a good, exciting hunt – especially during a thunderstorm. Usually they hunt once a week with the whole, assembled swarm. Together they all hunt their prey, which is usually one huge animal (about the size of a grown-up elephant or larger to get them all replete).
They're not able to fly for a long time or really fast, but they are very agile and clever. Also, they like to eat their meat grilled by lightning 😉