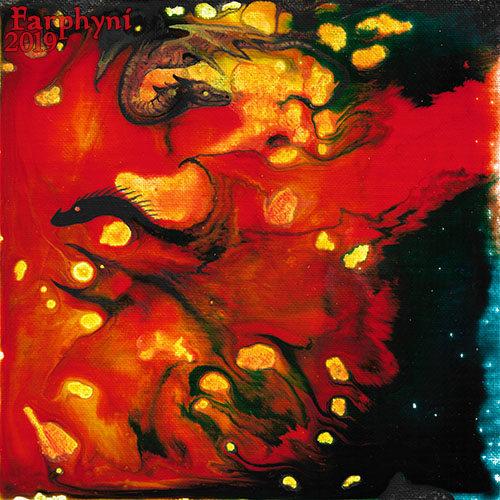 Neither just black nor white,
a million shades of colors instead.
Not simply war or peace,
rather creation and destruction
with a fragile peace inbetween.
Peace is not the opposite of war. Peace is rather the balance between war/destruction and creation. This general cycle is represented by Dragon (creation), Phoenix (balance/peace) and Wyvern (destruction/war), but each aspect surely has its own specific meaning depending on the person it belongs to. For example the conflict between head and heart. Logic and imagination. Whatever.
For me these three representatives play an important and reoccurring role in my works.

The Transmutation Crow introduced the cycle of the 3 (in a previous blog post), which aims for the state of the Wingshifter through understanding the three aspects of the cycle.

A common appearance of the Wyvern, that I saw in other people, is aggression, fear, hate or destruction – which can target other beings or oneself. Also retreat and solitude is rather common. Generally it is based on a wrong belief or a loss of faith in oneself or others – through a trauma for example or a general bad experience.
On the other side is the Dragon, representing (self-) awareness, (self-) confidence, (self-) determination, (inner) strength and sanctity.
(Note: I see dragons as holy figures, not as the evil devils the western tradition sees them.)

It is important to keep in mind that the Wyvern is actually not a purely negative figure (it represents experiences and mistakes from which we could learn a lot) and the Dragon not only positive (too much power without borders is chaotic and can turn into something destructive or negative). It is the balance of both that has a positive effect.

Between Dragon and Wyvern stands the Phoenix. The Phoenix is balancing Dragon and Wyvern, looking for a positive kind of destruction (to relieve the Wyvern) to create something new (with the power of the Dragon).
Another aspect of the Phoenix is transformation, of course, evolution, always getting back up on your feet, daring to step forward and continue your path.

The Cycle of the 3 is a general concept that can be seen in many processes of the human mind and character: be it the processing of emotion, experiences, etc.
The whole concept of the 3 is united in the Wingshifter (which appeared in Decryption Paradox, for example). The Wingshifter is a survivor, who can overcome any situation by fully using the potential of the three aspects of the cycle in a positive way – and not letting him consume by anything; being unbound and free, with open eyes and mind.
It is the Wingshifter who helps the Dragongirl to survive/overcome and develope.
(See next blog post)
More information about the series in general can be found here.