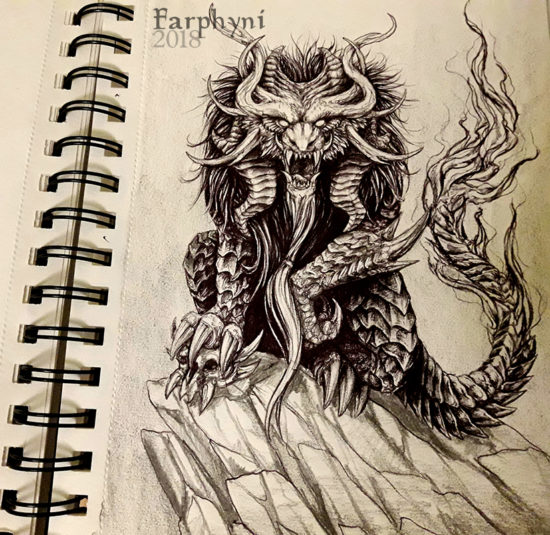 (A5-sketch with mainly ballpoint pen)
"Since childhood I've been faithful to monsters. I've been saved and absolved by them because monsters are the patron saints of our blissful imperfections."
(Guillermo del Toro)
Sketch of a new OC (original character). He's part of my headworld/worldbuilding stuff, belonging to my third world Iphyon – specifically to the largest island of Iphyon in the sea next to the human-dominated continent.
His name is Asmos, also known as "Pharaoh". He is a Carcassos (a sort of lion-dragon hybrid), an aggressive carnivore that usually lives and hunts in canyons. They are lone wolves.
Asmos lives in an old pyramid, where he hoards bones and especially treasures. In the pyramid are the graves of the oldest kings and it is said, that Asmos on one side protects them from grave-robbers and on the other side protects the land from a resurrection of the old, abnormally powerful kings. That's why the tribes of halfhumans living in the area around often bring offerings to Asmos to thank him for his protection.
Asmos has great physical strength and when he get very mad he starts to burn golden. He hates water and the cold.