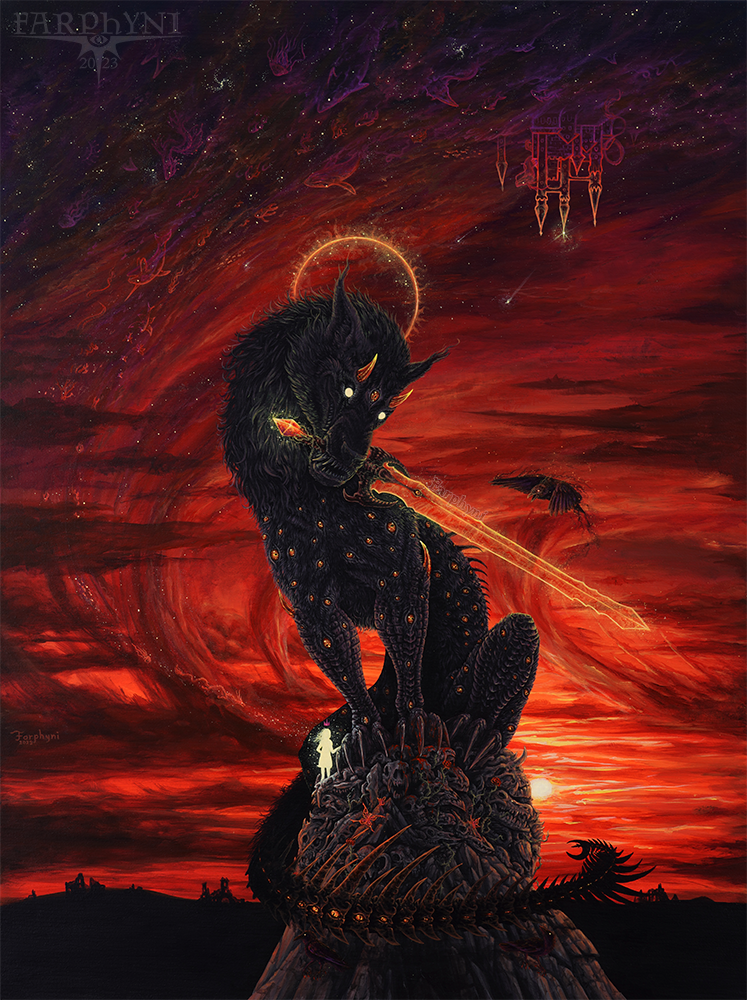 "A sea of stars, eyes of spirits,
fuel for dawn's blade.
The monsters we slayed,
in ruins of what used to be,
turning skull to stone, blood to roses.

"My sword for you", Kee'Asuriah growled,
mind castle's patron saint
with a trinity of crows by her side.
"Reclaim the throne,
for this is just the beginning of your road.""
---
If you are interested you can find prints and all kinds of printed products with this artwork in my Red Bubble Shop. Your support is much appreciated!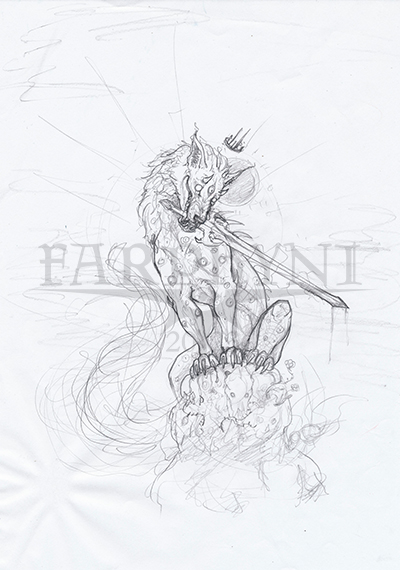 This artwork was quite a long and personal journey – created over a timespan of about two years. And that's why I will talk about the process a bit:
As always, it started with a sketch, based on personal experiences and related emotions.
A concept, that wanted to be further explored and with that also processed mentally.

With artworks like this it is not surprising that some details change during the process – they change with the artist, who shapes the art and in return is influenced by the art as well or rather by the mental process the artwork symbolizes and visualizes; a symbol of the growth – not just an origin, but a process as well; showing how the artist became who they are today.
After sketching I usually roughly explore the sketch digitally a bit (in case the artwork is planned to be of large format) – deciding a color sheme, light and shadow, details etc. But, once again, with artworks like this, these details are not set in stone. The more I face up with the underlying topic (and experiences) the more details can change around it, depending on the mental process and realizations. For example, a girl was added, who wears the crown instead of Asura – a change of leadership occured and the throne was reclaimed – for fear and anxiety shall not rule.
The crow of present rose above past and future to be on eye-level with Asura and the lightnings dance within the blade and not around it.
And so on …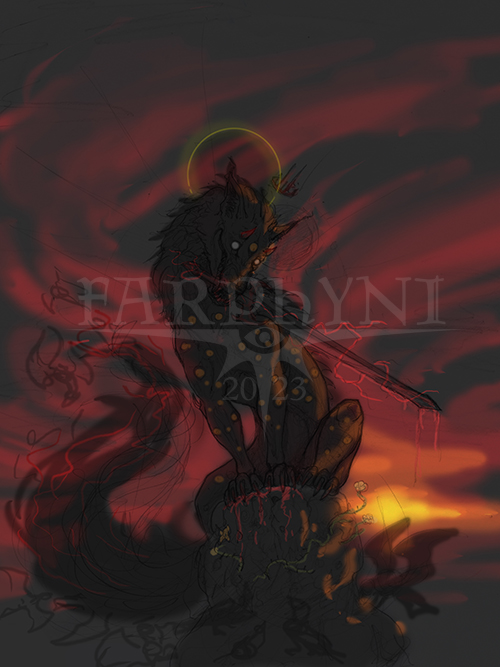 People who know my art and already followed my artistic journey for a while are probably aware of the fact that I absolutely love to draw details. The flow and delight of defining rough shapes, bringing them to life more and more with each brush stroke and dot, each underlining the symbolism, cannot be compared to anything else.
So, here are some detail views for you:
With this artwork I also used some paint that glows in the dark for Asura's two white eyes.
Another detail I want to show is the broad side of the canvas, which extends the scene in all four directions and displays Asura's runes.